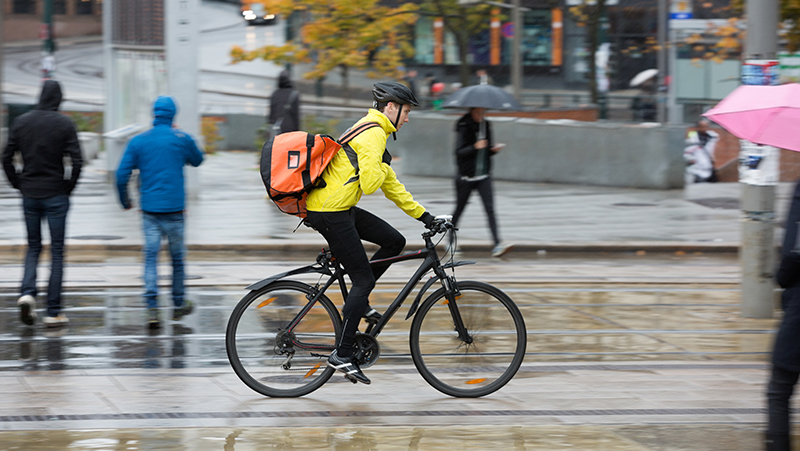 Photo by Shutterstock
Here in Denver and along the Front Range of the Rockies, bike commuting is possible on just about every day of the year. The summers are mild compared to many parts of the US, while our crisp falls and green springs offer some of the nicest days to be out on two wheels. Of course, bike commuting in the Colorado winter does come with challenges. And if you aren't comfortable riding the day after a heavy snowstorm, you certainly aren't alone.
When the roads are snowy and icy, you need to consider the hazards, including distracted or impatient drivers. However, bike commuting throughout the winter is generally safe, is a great way to stay in shape during the darkest months of the year, reduces your carbon footprint, and gets you outside when you would otherwise be stuck in a car or bus. Below are a few tips for staying safe, warm, and happy on your winter bike commutes.
Wider Tires Are Better
While you certainly do not need to go out and purchase a mountain bike or fat bike if you do not own one already, bikes with wider tires offer much more traction on slippery roads. Most road bikes can take a 28mm tire, while newer models can take a 30mm tire or wider. And, if you have tubeless rims and tires, setting up a tubeless system allows you to run much lower tire pressure than the standard 90 to 120 PSI required for standard clincher tires. A 30mm tubeless tire at 60 PSI will give you significantly more grip on the road than a 25mm tire at 110 PSI. Of course, if there is significant snow or ice on the road surface (this is of particular concern in the morning when road temps are at their lowest), a mountain bike or fat bike may be necessary. And, if you are really committed to commuting no matter what, a studded mountain bike tire will get you through just about the worst conditions imaginable.
Don't Brake Too Late
Slippery roads mean you need to start braking earlier than you would if the pavement was dry. Give yourself extra time to slow down if you're riding on snow, ice, or wet roads. Additionally, when cornering, try to do most of your braking before you begin turning, not in the middle of the turn. Braking heavily in the middle of a sharp turn can cause your front wheel to slide out. Gravel and road grit left over from snow plows can also be a hazard for cyclists in the winter, even if the roads are dry, so the winter months are not the safest to press your cornering speed to the max.
Use Strong Bike Lights
If you are commuting by bike in the winter, it is likely that you are going to be riding in the dark, at least at times. Whenever there is low light, you need to use a bike light. That means having lights ready and charged even if you start heading home at 4:30 or 5:00. The front light should be at least 500 lumens, while the rear should have a fast strobe mode to catch drivers' eyes.
Gloves and Shoe Covers are Key
You can wear a parka designed for summiting Hymalaian peaks, but if your hands and feet are not properly protected in the cold, you're going to be in for a miserable experience. Here on the Front Range, there are three levels of gloves you should keep on hand, depending on the weather.
Thin gloves for temps in the upper 40's and 50's
Medium thickness gloves for temps in the 30's and 40's
Super thick gloves for anything under 30 degrees
When it comes to the super thick gloves, your best option is to forgo gloves (and 'lobster' gloves) made specifically for bike riding, and choose something from the ski industry instead. These ski or mountaineering gloves should be heavy enough to keep your fingers warm in sub 20-degree weather, but flexible enough so as not to hinder your braking capability. Mittens are generally a poor choice because of the lack of dexterity they offer. Another option is to use medium thickness gloves with heavy duty 'bar mitts,' which are usually made of thick neoprene.
Neoprene is the best material of choice for shoe covers as well. Feet are harder to keep warm on the bike than hands (for most people), and using thick wool socks and shoe covers sometimes isn't enough. For really cold or long commutes, you may wish to consider purchasing a winter cycling shoe designed specifically for cold weather, or use platform pedals with heavy boots.
Front and Rear Fenders Keep the Spray Off
Unlike the Pacific Northwest and East Coast, our winters here on the front range are pretty much rain free. But with melting snow and ice comes near-freezing cold spray that can quickly saturate your feet, lower legs, and face. Spray is particularly troublesome for bikes with treaded tires, like mountain bikes. Road spray can be combated with front and rear fenders. For frames with hole mounts, you have the option of using full fenders for the most coverage. For bikes without these specific hardware mounts you can still attach partial front and rear fenders that will keep most of the spray at bay.
Invest in a Pair of Form-Fitting Gore Tex Rain Pants
Rain pants are one of the most often overlooked clothing items when it comes to cold weather bike commuting. Snow pants are too thick, and usually too warm. Rain-specific pants can be worn alone, slip over your work clothes, or be combined with a thin base layer, allowing you to control your temperature depending on the current weather conditions. Gore tex and other waterproof materials allow the fabric to breathe, so you stay dry and sweat-free even as your body temperature heats up. Choose something that is form-fitting to reduce drag and excess rubbing against the bike.
Make Yourself as Visible as Possible to Distracted Drivers
Unfortunately, most cold-weather bike gear is dark-colored or outright black. The cycling industry still doesn't get it when it comes to designing winter gear with low light visibility in mind. Luckily, much of the clothing you may need to purchase can be bought from the ski (especially nordic ski), climbing, or hiking industries. For cycling specific gear, try to choose bright colors, or at least clothing items with bright accents.
For Really Cold Weather, Try a Ski Helmet and Goggles
When the temperature is below 28 degrees, a thin hat underneath your bike helmet often isn't enough. As the temperature gets closer to 20 (or lower), staving off the dreaded 'ice cream headache' becomes more difficult, which will make even short commutes unbearable. The best way to keep your head, eyes, and face warm is to use a ski or snowboard helmet, along with a pair of ski goggles.
Keep an Eye on the Forecast
Planning ahead is everything when it comes to bike commuting in the winter. Make sure you have an idea what the weather is going to be the next morning so you aren't taken by surprise when you wake up. And just as important, make sure you're aware if there's an evening blizzard heading your way. The weather can change on a dime here in Colorado; if you set out in the morning on a sunny, mild-temperature commute, don't expect it to be that way on your return trip home in the afternoon or evening.
Reach Out to Colorado Bike Crash Attorney Brad Tucker Today
If you were struck by a driver, you need to contact an attorney. Just because you were riding when it was dark out, or you were riding with snow on the pavement, does not mean that you were at fault. Cyclists have a right to be on the road at any time of the day and in any and all inclement weather conditions, even in the middle of a snow storm. Drivers have a duty to act with care towards all road users. Call bike crash lawyer Brad Tucker at ColoBikeLaw today to schedule a free consultation with Colorado's most experienced bike crash attorney.