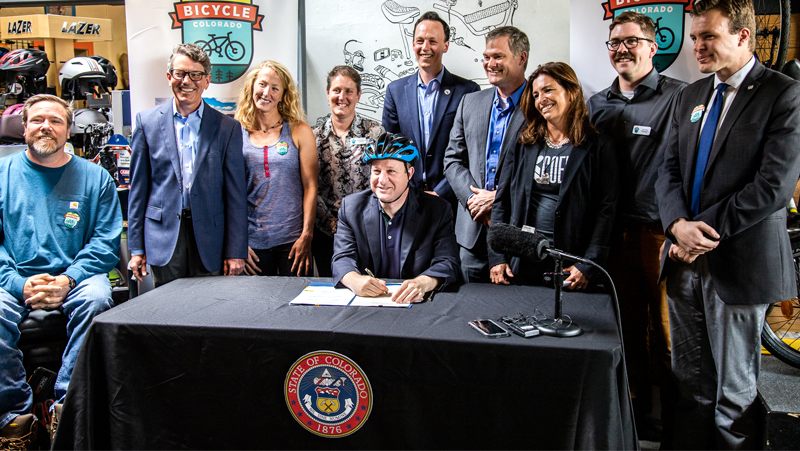 Photo by Brad Tucker
The world can feel like a cruel place, especially if you were recently hit by a car. Bike crash victims are often wrongfully blamed by police and local news outlets; social media trolls quickly fill up the comments section with hateful, ignorant vitriol; insurance adjusters diminish the seriousness of the victim's injuries; and, in many ways, the criminal justice system has its hands tied when the victim is a cyclist. And even worse, when an injured cyclist eventually does get back out on their bike (though many never do), it can feel like the world is out to get you because drivers, city planners, and road engineers are just as uncaring as before.
But it is important to keep in mind that there are people who care about what you are going through, and there are those who are actively working to make the world a safer, more fair place to ride. You may be able to seek solace in the fact that advocacy groups, district attorneys, other cyclists, personal injury attorneys, and politicians are on your side, fighting for the following three types of justice for bike crash victims.
Criminal Charges For the Driver
The first, and most obvious, form of justice for bike crash victims is to charge the driver with the most harsh criminal penalties possible. There are two problems with this. First, it is very unlikely that the driver will actually be severely punished. Unless they committed a hit and run, or were drunk, they won't spend any time behind bars. And even in the most egregious cases, reckless drivers tend not to spend a single day in jail, even if convicted. All throughout the U.S., criminal charges that drivers face for causing serious injuries, or even death, are relatively very small.
The second problem with seeking justice through fines and jail time is that if you fight tooth and nail to force the DA to charge the driver with a crime of intent, the defendant's insurance company will potentially not be liable for your damages. If the driver hit you on purpose, for example, you cannot successfully sue them and expect their insurance company to pay the damages. This severely impacts financial compensation available in a civil lawsuit. In a way, serious criminal charges can harm the victim as well as the driver.
However, criminal charges are the first step in seeking justice, and while limited, the driver may face the following penalties for their negligent actions:
Fines;
Points on their license;
License revocation;
Community service;
Misdemeanors;
Felony record; and/or
An increased insurance premium for causing the crash (this is not a penalty imposed by the justice system, but is a result of being charged with a traffic offense).
Compensation Through a Personal Injury Claim
Financial compensation is the second, and often the most important, form of justice for bike crash victims. While few drivers are worth suing for their personal assets beyond their liability insurance, you can sue them to recover against their liability insurance, and even your own insurance if you have an uninsured/underinsured motorist policy (UM/UIM policy). The financial compensation from a lawsuit can go a long way in not only paying your medical bills and for a new bike, but it can help you create a more financially stable future for yourself and your family. Money doesn't solve everything, of course. And, if the driver was uninsured or minimally insured, and you do not have a large UM policy, a civil lawsuit may feel like another let down.
Improving the Law For a Safer Future
Colorado does not always have strict enough criminal penalties for negligent drivers, as stated above. As you are also probably aware, our state—like all states—does too little when it comes to bike infrastructure. Despite this, we have come a long way. Legislation that protects cyclists makes the roads safer, and in the long run this leads to more people on two wheels, which in turn brings awareness and tax dollars to building bike infrastructure.
As a crash victim, your case may be the one that is used to help create laws like the three-feet-to-pass rule, which requires drivers to pass cyclists with at least three feet of space. This law was created following the traumatic crash of an elite mountain biker we represented a number of years ago. The semi-truck driver claimed that our client somehow swerved into his vehicle as he, the driver, attempted to pass with "ample" space. Putting the physics of a three feet swerve aside (a cyclist making this maneuver at speed would immediately go over the handlebars), the driver's story was clearly fabricated, as our client was an exceptionally experienced bike handler. While the jury in that case agreed with us as to the foolishness of that defense, the three feet law that we helped create forever closed this argument that drivers used to often fall back on, that the cyclist "just swerved in front of me."
A more recent law that we helped pass was the vulnerable road user law, which automatically places 12 points on a driver's license if they cause serious bodily injury to a vulnerable road user, such as a cyclist. 12 points is enough to immediately revoke a driver's license. While the driver who caused your injuries may not have been adequately punished in your eyes, your case may eventually help lead to important litigation, such as:
Creating laws like the three feet to pass rule, or
Allowing DAs and judges to pursue more harsh penalties for negligent drivers such as is available with the vulnerable road user law.
You may never know about it, but your case may, in fact, save the life of someone in the future.
How Colorado Bike Law Can Help
While each one of these three "tiers of justice" may feel small or unimportant on its own, added together they may be enough for you to feel that the world is a little less unfair, and a little less uncaring, than it seemed in the weeks after you were hit. To discuss your case and how we can help, please do not hesitate to call ColoBikeLaw today.